You may be wondering what herbs have to do with an app that is all about self-care, but I have an extremely profound saying, "when you feel better, you feel better". Basically, it's easier to be happy and love yourself if you feel good.
I am a firm believer that Mother Nature has given us almost everything we need to live full and happy lives. This section of the app is devoted to herbs and how they can help you be happier and feel good. This is not medical advice and I am not a doctor. I know a little bit about herbs and I try to incorporate them in my everyday life for anything from an upset belly to anxiety that feels like it is going to crush me.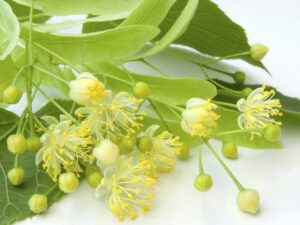 Linden
Linden is a beautiful, deciduous tree found in northern climates. The leaves, flowers, and bark have been used in folk medicine for centuries. The easiest way to add linden to your life is to drink it as a tea.
While linden is useful in a huge variety of medical issues, here are some emotional issues it can help with also. When you are stressed and feel like you just need a hug, linden will come to the rescue. Steep some linden leaves and flowers in hot water, sip slowly and feel the stress melting away.
Medicinal applications- Lindenis helpful for high blood pressure, palpitations, arrhythmia, angina, tightness and dryness in the chest, and those with histories of heart attack, stroke, and cardiovascular surgery. Linden has a blood pressure modulating effect, evening out both high and low blood pressure.
For the emotional heart and nervous system, linden has a broad application. Its gentle yet effective cooling nervine action is indicated for anxiety, nervous tension, insomnia, and agitation. Linden is particularly suited to mitigate the effects of drying, stimulating medications like Adderall and Ritalin, and is well tolerated in children.
Linden is soothing to nerve pain wherever it appears in the body. Intestinal pain from indigestion and allergies to foods, systemic nerve pain from fibromyalgia and MS, tension headaches, tense menstrual cramps, nerve damage due to injury, and nerve pains due toviruses, including herpes, are all calmed by linden. In practice:
Linden is an important cardiac plant for blood pressure modulation, dryness and hardening of the cardiovascular system, and for stress related heart problems.
For the emotional heart, linden is a vital relaxant, causing people to feel safe and loved. Linden's effects on the cardiovascular and nervous systems make it particularly suited to stress–induced conditions.
For the nervous system, linden is an important ally for anxiety, nervousness, sleeplessness, and overstimulated nerve pains.
Cautions:Linden leaves and flowers are very safe for children, elders, and pregnant individuals. The bark should not be given to people on blood thinners; this plant part is less used in modern herbalism.Friends:hawthorn, rose, motherwort, wood betony, lemon balm